Sketchnotes are visual minutes made during a meeting or session. The idea of visual annotation is that the use imagery addresses parts of the brain that are not activated when using just text or speech. Our cartoonists often work on special PostIt™ blocks. After completion the self-adhesive sheets can be stuck to walls or windows for a complete overview.
It is precisely the combination of words and images that is most powerful. This combination adds a lot of value to intensive meetings such as brainstorming sessions or mapping new challenges. SketchNoting on whiteboard is another, widely used solution. If a large whiteboard is present at the location, our cartoonist is able to depict the session in one large, continuous drawing.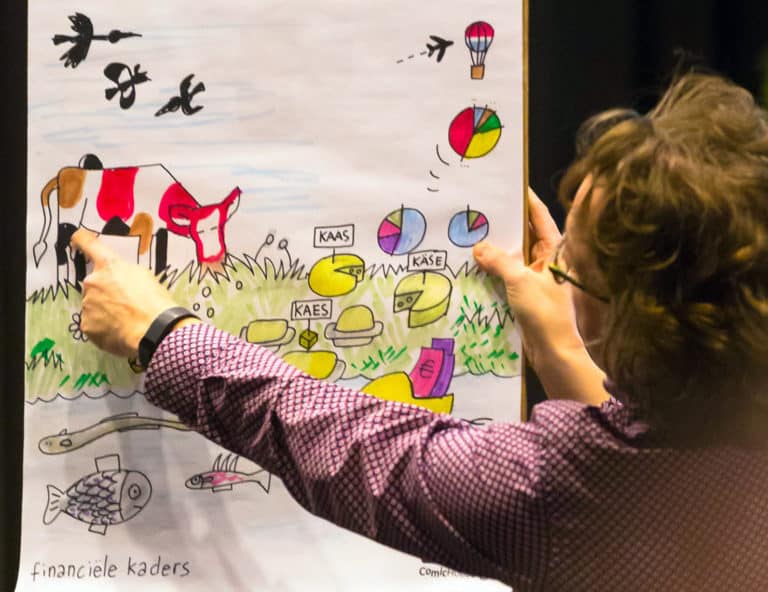 Drawing on flipcharts is also an excellent option. Sometimes blocks are available with a pre-printed logo or event theme, that can be used by our cartoonist. With this technique it is also possible to stick the cartoons to the wall afterwards, so participants can stroll by and take another look, while enjoying their drink.
Using a camera or a digital tablet, it is possible to project the work of our cartoonist on a large screen. For instance during a break, showing cartoons that were made on the previous segment. Or even showing the cartoons live, as they are being drawn. Especially with a larger audience this proves to be an excellent way to keep the attention of the participants focused and achieve greater involvement.
The interaction between the participants in a brainstorm often leads to creative solutions. Moreover, participants feel involved in a new approach or optimal solution. During a brainstorming session our cartoonist notes all ideas in a concise, visual way. This rich collection of visual notes can be rearranged and discussed afterwards.
By swapping paper or whiteboard for a digital drawing tablet, SketchNotes can be drawn digitally. This offers a number of advantages. The SketchNotes can be projected on a large screen. The notes can also be published on the internet or viewed – and possibly shared – through social media. Fast communication that ensures maximum involvement.